On Valentine's Day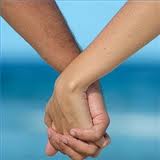 , we are surrounded by images of hearts, cupids and suggestions of ideal love.   Studies of happiness have revealed that one of the most critical keys to happiness is healthy, positive relationships.   Unfortunately, many struggle with finding or keeping romantic relationships alive and as a result are unhappy. In fact, one of the most common New Year's Resolutions is to improve relationships. The good news is that if improving relationships is a goal for you, there are several ways to begin to make changes.
Five Ways to Get Started
Be realistic. While it is important to strive for fulfilling relationships, it is just as important to be realistic in your expectations. We all see images of the "perfect" relationship depicted in movies and television and it is suggested that love conquers all and is easy. Relationships are full on ups and downs and need to be nurtured to grow and last. Knowing this will take the pressure off of looking for perfection. Some experts suggest the 80/20 rule – if you are content with the relationship 80% of the time, the relationship is healthy.
Pay attention to your partner. While this may seem like a no-brainer, it is one of the most common reasons relationships struggle. There are so many distractions that compete for our attention.   Technology has become a major distraction and often people are more focused on a screen than the person in front of them. There is nothing wrong with using technology but make sure that it is not interrupting your time with your partner. Consider having no technology times during the day so you can really listen to each other without distraction.   
Know your own emotions. Conflict is a normal a part of any relationship. Conflict can escalate quickly when we are unaware of our own needs and emotions. Pay attention to what you are feeling and notice when you react based on an automatic emotional trigger. If needed, take a brief time out to breath and think about what you want and need at that time. Make a choice to communicate in a clear, non-threatening and calm way to keep the disagreement or misunderstanding from turning into an angry fight. If the argument escalates, consider taking a break so that each person can calm down and gain perspective.
Nurture and cultivate your relationship. Share your dreams and visions together and support each other in those goals. Couples who share and know each other on a deeper level tend to help each other reach their goals. In addition, identify and nurture your shared dreams, goals and values for your relationship so that you are paying attention to what is most important.
Have fun and keep a sense of humor. Many relationships fail because the couple stopped having fun together. There are many factors that compete for our time and often fun falls to the bottom of the priority list. While there will be times when it's hard to find time or energy for fun, it is critical to plan for shared enjoyable activities to keep the relationship alive. Make a list of things you like to do together and put them on the calendar. And always keep a sense of humor. Humor is a great way to gain perspective and lighten even hard times.
Wishing you a Happy Valentine's Day! For more information, please email me at or check out my website www.bewelllifecoaching.com.